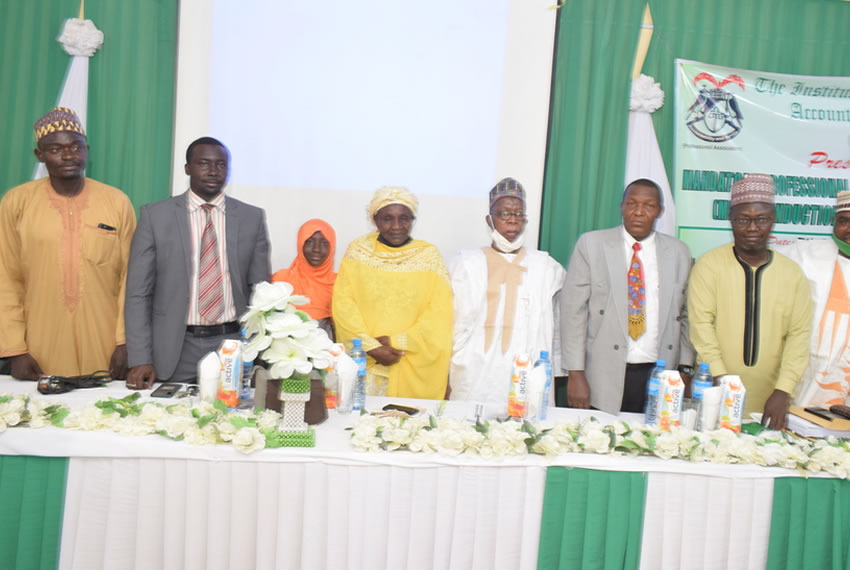 The Institute of Certified Public Accountants of Nigeria was established on 1st May 1988 and incorporated on the 6h May 1996 to provide a part to a recognized professional qualification in accountancy of international standard which would be open to all men and women solely on the basis of education and ability. More>>


There are two main classes of membership of the Institute, namely Certified Public Accountants and Graduate Public Accountants. Persons admitted as members of the Institute shall be designated as Associates  Read More
RECOGNITION

The Institute of Certified Public Accountants of Nigeria with the National headquarters atJ  11, Ibrahim Taiwo  Road / Ibadan Street Kaduna  State is the only legally Recognized and Authorized Institute of Certified Public Accountants of
MEMBERSHIP
There are two main classes of membership of the Institute, namely Certified Public Accountantsand Graduate Public Accountants. Persons admitted as members of the Institute shall be designated as Associates and Fellows
EXAMINATION
The Institute runs two different types of examination namely:- Diploma and Professional.And they are held twice a year, June and Decemberfor the Professional and April and October for the Diploma  
WELCOME TO ICPAN
The Institute of Certified Public Accountants of Nigeria was established on 1st May 1988 and incorporated on the 6h May 1996 to provide a part to a recognized professional qualification in accountancy of international standard which would be open to all men and women solely on the basis of education and ability. The Institute is a professional association of Nigerian citizens and an examining body to carter for the shortage of professional accountants in the public and private sectors of the Nigerian economy.
OBJECTIVES
The Institute was founded for the following objects inter alia:
To provide an organization, National and International in scope and activity for all Accountants, Treasurers, Financial officers in both public and private sectors of the Nigerian economy.

To unite all Nigerians holding local and foreign accountancy qualifications who are being employed as accountants in the public services of the Federation; industrial, and commercial establishments and those in self employment as financial, and management and tax consultants.
To ensure a professional status necessary to promote and encourage the study and development of the art and science of accountancy in public practice, industry, commerce and public sector.
To develop from time to time standards in accountancy, auditing and taxation which will meet both Nigerian and international standards.